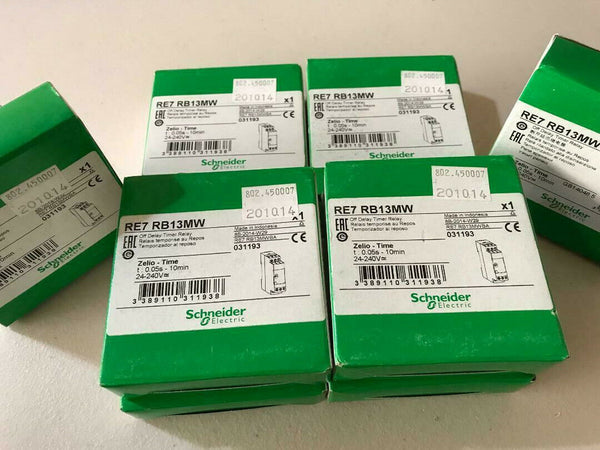 Schneider relay RE7RB13MW

other people are viewing this currently
Available
The Schneider Relay RE7RB13MW provides high reliability, performance features, flexibility to design redundancy in parallel with diversity of control logic schemes. It has a vacuum-tight sealed plastic case (Nema 4), double conformal coating, insulation resistance < 100mOhms/sqft; dielectric strength 1500Vrms at sea level atmosphere. This is an AC rated relay for protection of output contacts and auxiliary contacts against faults between 20A and 250VDC or up to 15kVAC per IEC60198 pers contact as well as for continuous heavy duty switchgear applications.
Warranty Info:
The product is new or used surplus. ROC Automation is not an authorized surplus dealer or affiliate for the Manufacturer of this product. The product may have older date codes or be an older series than that available direct from the factory or authorized dealers. Because ROC Automation is not an authorized distributor of this product, the Original Manufacturer's warranty does not apply. All of our products have a 1-year warranty replacement from the date of purchase.

While many products will have firmware already installed, ROC Automation makes no representation as to whether a product will or will not have firmware and, if it does have firmware, whether the firmware is the revision level that you need for your application. ROC Automation also makes no representations as to your ability or right to download or otherwise obtain firmware for a product, either from the Manufacturer, its distributors, or any other source. ROC Automation also makes no representations as to your right to install any such firmware on the product. ROC Automation will not obtain or supply firmware on your behalf. It is your obligation to comply with the terms of any End-User License Agreement or similar document related to obtaining or installing firmware.

Returns and Refunds:
For Both Domestic and International Returns. We will accept returns within 30 working of the transaction. Buyer pays the return shipping Full Money back guarantee.